Podcast: Interview with Andrea Biwer and Marne Deithorn of the Veterans Back-To-Work Boot Camp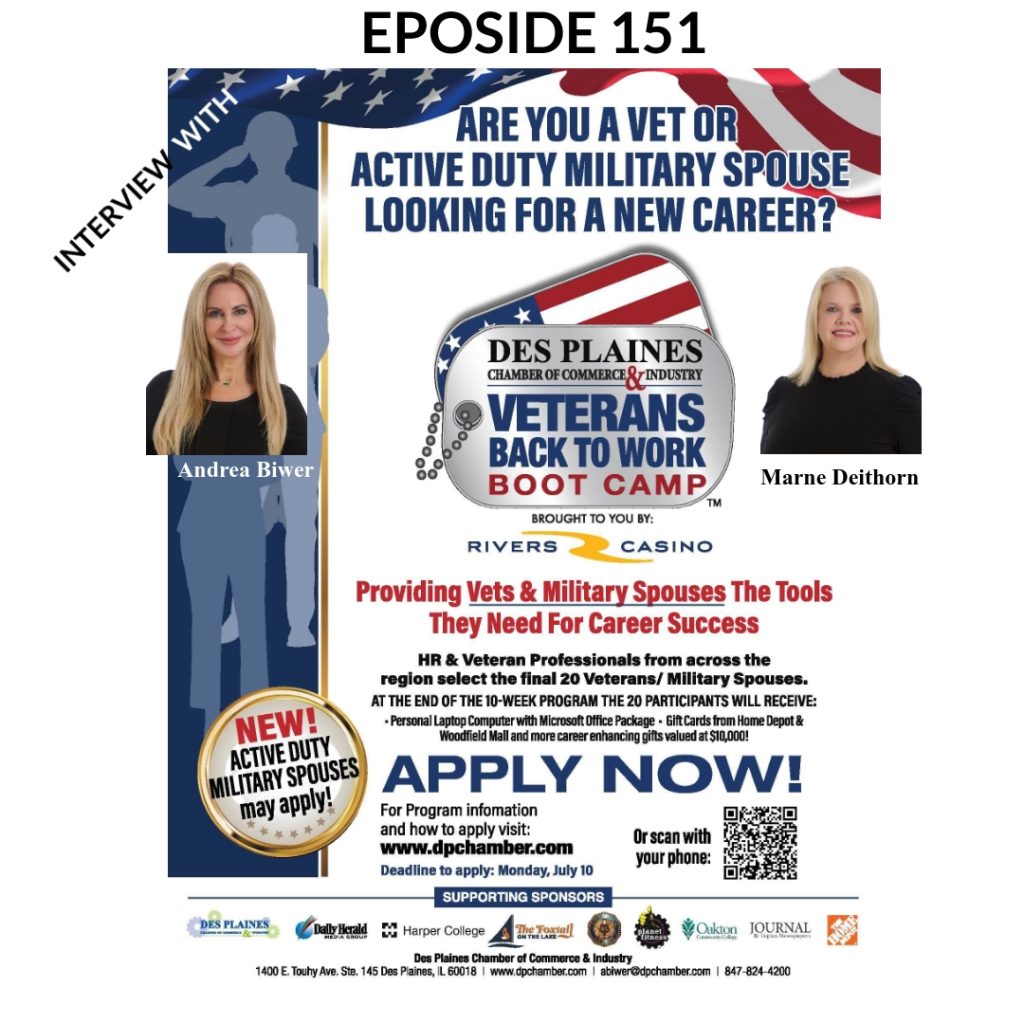 EPISODE 151
The Des Plaines, Illinois Chamber of Commerce & Industry's (www.dpchamber.com) "Veterans Back-to-Work Boot Camp", brought to you by Rivers Casino, is returning for a 7th year in a row this Fall. They are searching for recent military veterans and/or any veterans in transition, who have been honorably discharged, and NEW this year they are accepting applications from SPOUSES of ACTIVE-DUTY MILITARY MEMBERS to apply to be selected for this transformative opportunity.
Upon completion of the program, each participant will receive a career-enhancing professional development package valued at more than $10,000.00. The remaining VETERAN/MILITARY SPOUSE applications will be shared with our HR committee for hiring consideration and will be invited to our Des Plaines Chamber "Fall into a New Career" Career Fair on Wednesday, November 1, 2023.
Since the program started in 2017, they have had over (140) Veterans graduate, and many of them have gone on to find meaningful careers in our area.
The 2023 selected participants will receive the tools they need to transition into the workforce to find the job of their dreams.
An interview with Andrea Biwer, Executive Director of the Des Plaines Chamber of Commerce, founder of the Boot Camp and Marne Deithorn of Rivers Casino, supporter and sponsor of the Boot Camp.
Contact:
Andrea Biwer
Executive Director
Des Plaines Chamber of Commerce & Industry
1400 E. Touhy, Suite 145
Des Plaines, IL 60018
O: 847-824-4200
Out There on the Edge of Everything®…
Stephen Lesavich, PhD
Copyright © 2023 by Stephen Lesavich, PhD. All rights reserved.
Certified solution-focused life coach and experienced business coach.
#veterans #veteran #military #militarylife #desplaines #illinois #chamberofcommerce #riverscasino #andreabiwer #marnedeithorn #bootcamp #backtoworkbootcamp #miltarytransition

Podcast: Play in new window | Download
Out There on the Edge of Everything®