Are you a Jeannie stuck in a bottle?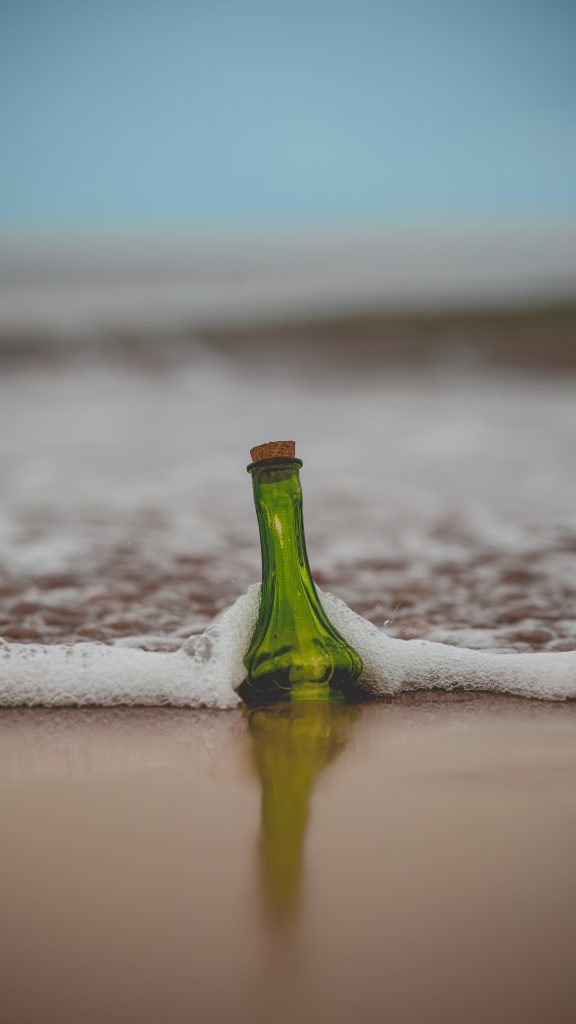 Listen to this blog post:
---
---
I never know where the inspiration for my next blog post and podcast will come from.
Let me share another true story with you.
I was reading an article about television shows done in the 1960's.
One of the TV shows mentioned in the article was "I Dream of Jeannie."
In this sitcom, an astronaut is stranded on a beach on a deserted island after a failed space flight and finds a fancy bottle.
He opens the bottle and finds a female genie named "Jeannie" trapped inside.
He frees her from the prison that was her bottle.
Jeannie uses her personal "magic" throughout the show to grow and evolve into her true "authentic self."
A couple of years ago I did a blog post and a podcast about being a "message in a bottle."
In the blog post, I was talking to a female friend who is single and she told me that when she puts a profile up on a dating site, she considers her profile being a "message in a bottle."
She writes a note (her profile) about what kind of partner she is looking for, puts it in a bottle (her login identifier) and tosses the bottle into the ocean (searchable profiles by login id on the dating web-site) including the tens of thousands of other daters.  
She is hopeful that her bottle will "wash up" on the virtual shore of her desired partner, he will open it, read her message, contact her and personally interact with her.
In this instance my female friend voluntarily put herself inside an "energetic bottle."
Have you trapped yourself inside an "energetic bottle" in your own life that is keeping you trapped from using your own "magic" and growing and evolving into your own true "authentic self?"
Assume, I have just found your own "energetic bottle" on the beach and I have opened it to free you from it.
How do you now work your own personal magic to grow and evolve into your own true "authentic self?"
Be True to Yourself. William Shakespeare, said in the play, Hamlet, in Act I , Scene III, "to thine own self be true." When you are true to yourself, you know and understand what is best for you. You know what you need to stay balanced emotionally, psychologically, physically, sexually and spiritually. When you are true to yourself, you are empowered and set and enforce strong personal boundaries including your own physical, emotional, psychological, sexual and spiritual boundaries.
Be Honest.  Benjamin Franklin is quoted as saying: "Honesty is the best policy." When you are honest with yourself, you have integrity and self-awareness of your true "authentic self."  You are truthful and when you someone else violates one of your boundaries or triggers you emotionally and then you speak up and express your feelings about the situation. When someone else expresses an opinion that you do not agree with, you respond in a sincere and respectful manner.  Being honest allows you to engage in healthy, trustworthy, positive relationships with others.
Be Responsible. There is an anonymous quote that says: "Responsibility is accepting that you are the cause and the solution of the matter."  Being responsible in your own life depends on your state of responsibility. Your state of responsibility is a reflection of your current emotional state, your emotional triggers, current set of boundaries and your current set of beliefs.   A big component of being responsible is being empowered. Being empowered is being confident, in direct control of your own life, setting intentions, living from an active, pro-active state and making decisions based on positive emotions for what you want to achieve.
Freeing yourself from your own energetic bottle will allow you to live as your true "authentic self" and express your own personal "magic" to make a positive impact in your own life and the life of your family and friends.
Out There on the Edge of Everything®…
Stephen Lesavich, PhD
Copyright © 2023, by Stephen Lesavich, PhD. All rights reserved.
Certified solution-focused life coach and experienced business coach.

Out There on the Edge of Everything®